An oil lamp which was clean burning and produced an intense flame and a very bright light. Invented by Frenchman Ami Argand, this lamp was widely used during the late eighteenth and early nineteenth centuries.
A lighthouse with no keepers. The lights are controlled by remote control, timers or light and fog detectors.
A light or radio signal.
see Caisson Towers
Lighthouse built on an iron caisson. A caisson was essentially a hollow tube made of heavy rolled-iron plates. The caissons were bolted together on land, transported into place, sunk and filled with sand, gravel, rock or cement. Some referred to them as coffee pot lights or bug lights. After the invention of the internal combustion engine, they became known as spark plug lights.
Usually cylindrical in shape, these lights became popular in the 1840's. Cast iron was stronger than stone and comparatively light. They could be manufactured miles away in a foundry, and transported to the sight for erection.
The identifying feature of a lighthouse. To distinguish one lighthouse from another, each lighthouse is given a distinct color and/or pattern of flashes of the light.
Rather than being round as most lenses are the Clamshell, or Bivalve, lenses has a flattened shape reminiscent of a clam shell. The usually have two bulls eyes, one on each side of the lens.
The mechanism that turned the light in early lighthouses.They were made up of a series of gears, pulleys and weights, which had to be wound periodically by the keepers.
see Caisson Towers
A lighthouse comprised of a small one story building with a light on top. The building housed the keepers, were relatively inexpensive to build and maintain.
The color or pattern and shape of navigational aid used to identify it during daylight hours.
A beacon light that shines constantly during its hours of operation.
The narrow beam of light emitted from a Fresnel lens or modern optic. The distance from the water surface to the center of the beam is know as the height of the focal plane.
A beacon light that seems to flash on and off. Each light has a set pattern of flashes to distinguish it from other lights.
The sound, usually a horn, siren or trumpet, produced to warn ships away from obstacles during fog or poor visibility.
A walkway with railing that encircles the lantern. This enabled the keepers to maintain the outside of the lamp house.
Pronounced [Freh-nell], it is a lens made up of a group of hand polished glass prisms mounted in a brass frame. They were invented by French physicist Augustin Fresnel. They project a powerful beam of light which can be seen from great distances. They range is size from a 1st order lens, which can be up to 12 feet tall and 6 feet in diameter, down to a 6th order lens, which is only about a foot tall.
A light to guide ships safely into a harbor.
A lamp and highly polished mirror used before the invention of the Fresnel lens.
The glass enclosure at the top of a lighthouse which houses the lamp and lens.
A navigational aid with a light beacon. A light station may or may not include a tower, keepers quarters or fog signal.
A tall structure used to elevate a light beacon so that mariners may see it at a distance.
A term applied to a variety of structures built to aid in guiding ships. The term is often used interchangeably with "light tower" or "light station".
A ship, usually fitted with a light beacon on a tall mast, that served as a lighthouse where it was not practical to build one.
Term applied to a broad range of light weight, weatherproof beacons used in modern devises.
A light that is partially blocked, or occulted, to make it appear to flash. Also called an eclipsing light.
A navigation light that is privately owned and maintained. Sometime they are deactivated beacons that have been reactivated for historic purpose.
Lights that are displayed in pairs to guide ships through a narrow channel. The rear range light will be the taller of the two, with the front range light often at waters edge. When the ship is in the channel, the lights will be in alignment.
A portion of a light that is colored red so that a mariner sees a red light if he is approaching a dangerous obstacle.
Lighthouse built on piles that were "screwed" into the water bottom. They often supported a small wooden building with a tower and light on top.
Towers consisting of four or more strongly braced legs often enclosing keeper's quarters or work rooms and with a beacon on top. With their open design they offer little resistance to the wind and waves and have withstood many storms. They are also used onshore where the land cannot sustain the weight of a masonry tower.
Many remote lights are powered today by batteries recharged by solar light.
See Caisson Towers
A few lights used to consist of two separate lights to distinguish them from nearby lights.
Florida Lighthouse Drawings
by Paul Bradley
The following pen and ink drawings were presented to the Florida Lighthouse Association by artist Paul Bradley. They include all of Florida's existing lighthouses as well as some of those no longer in existence. Our heartfelt 
thanks to Paul Bradley for this beautiful collection.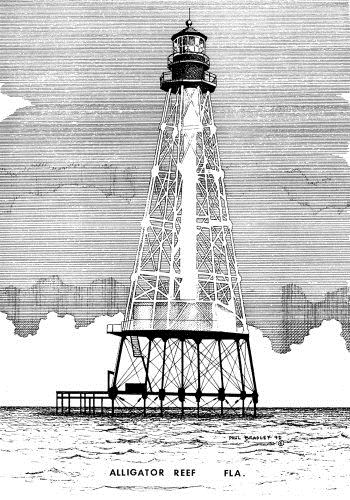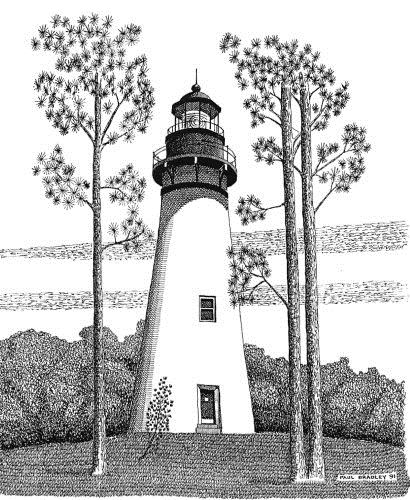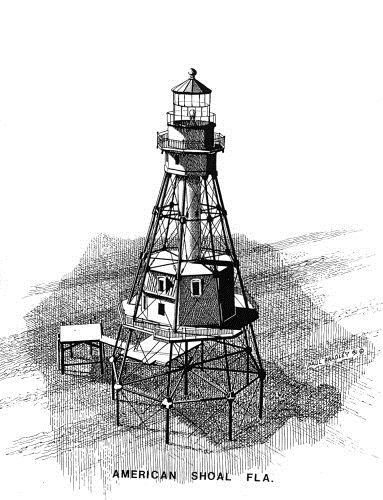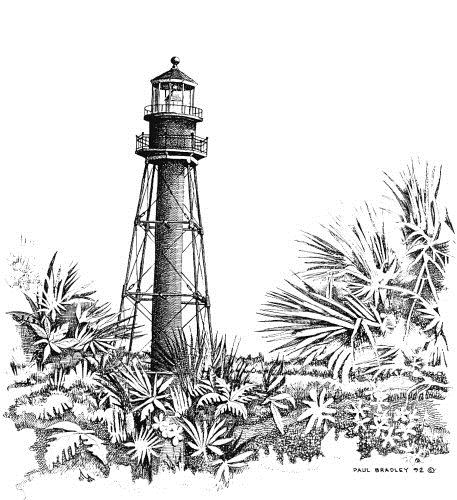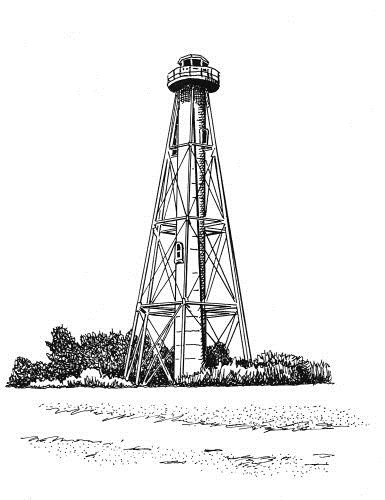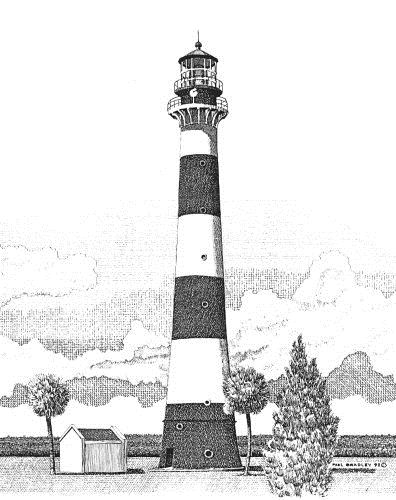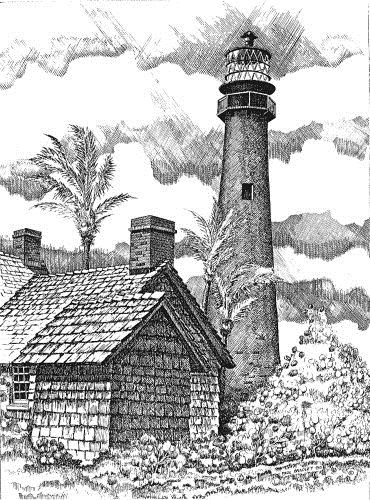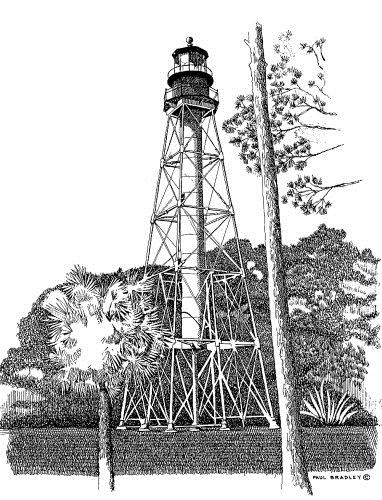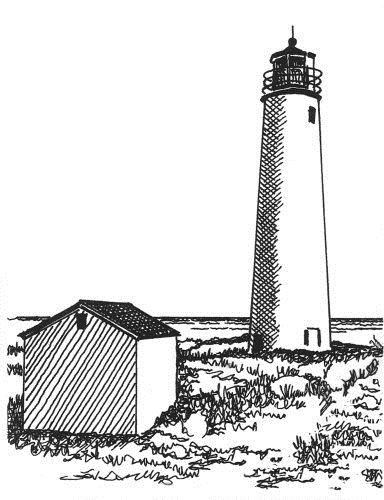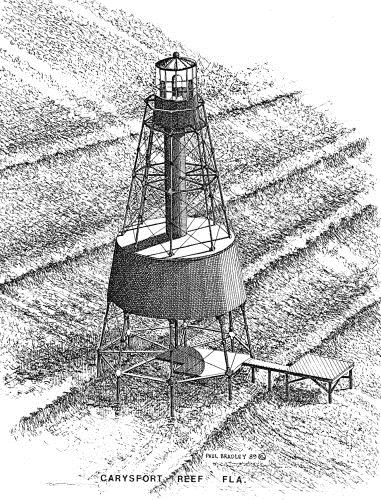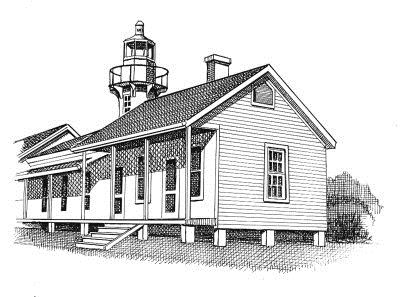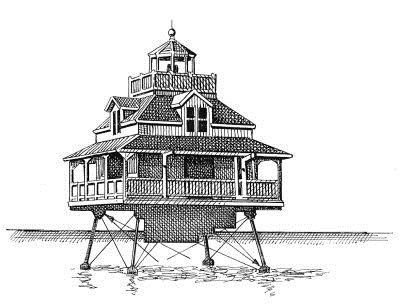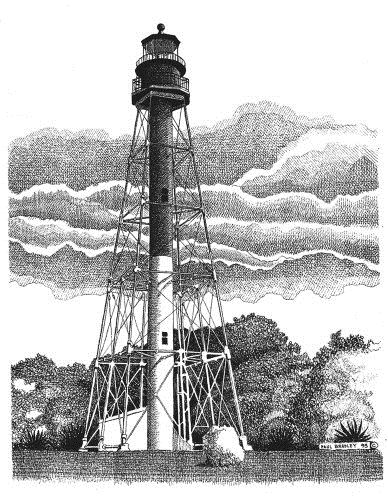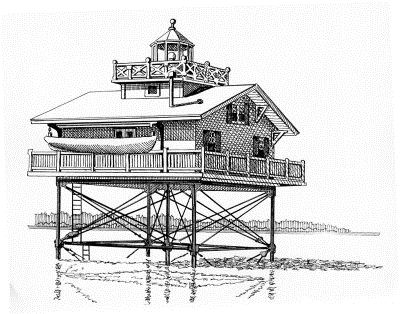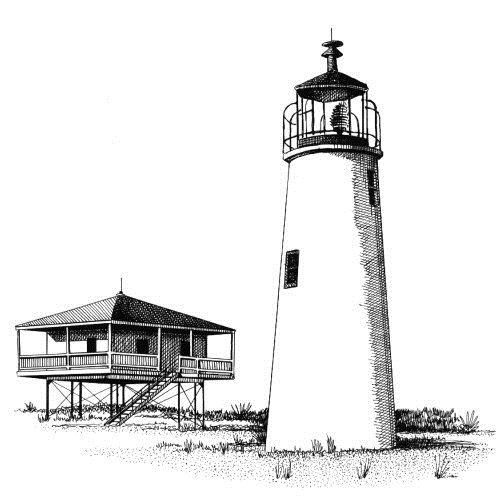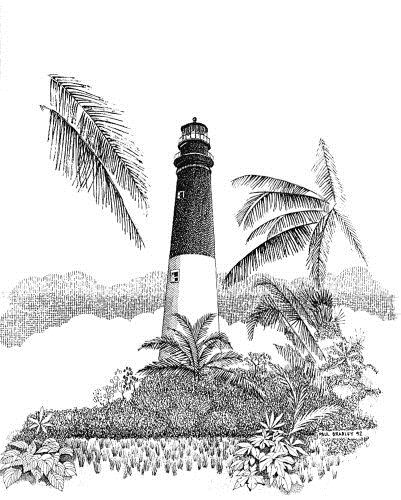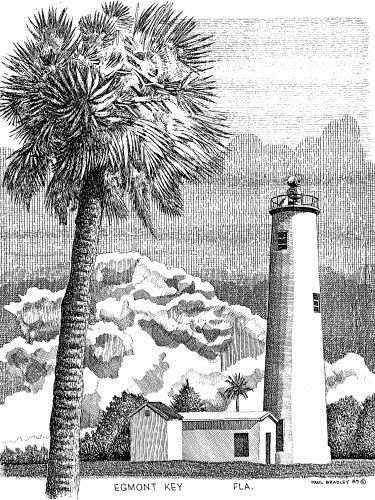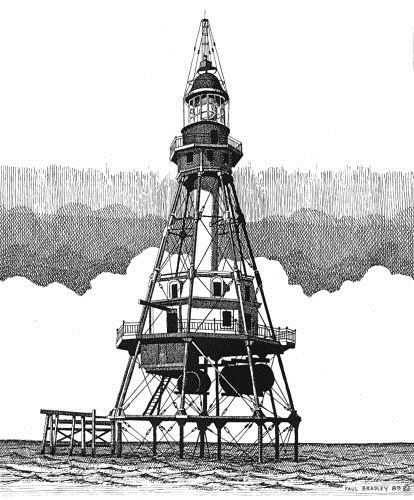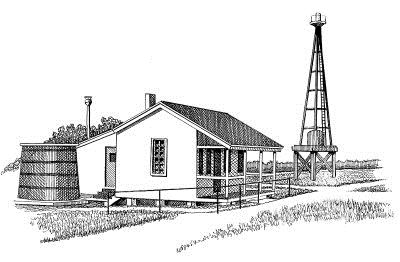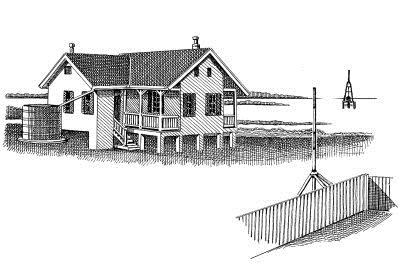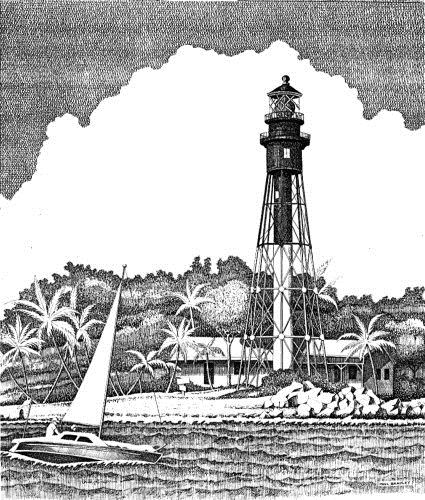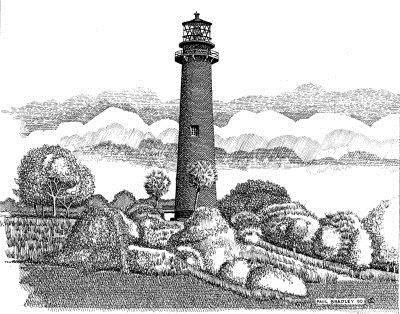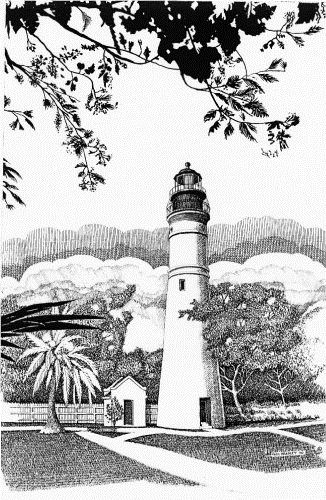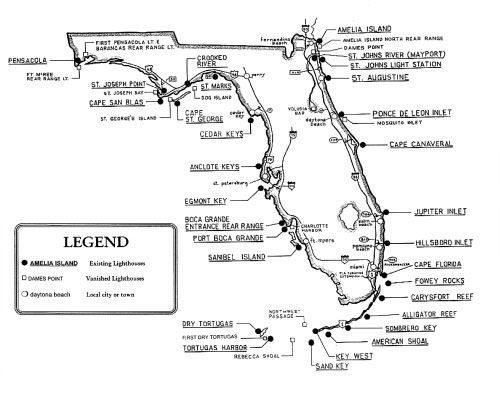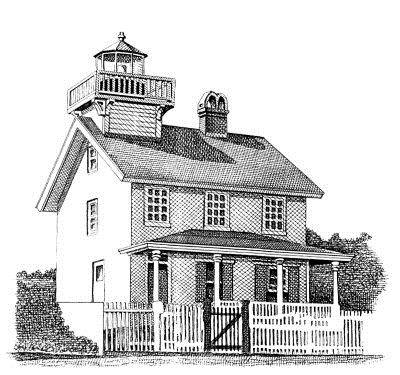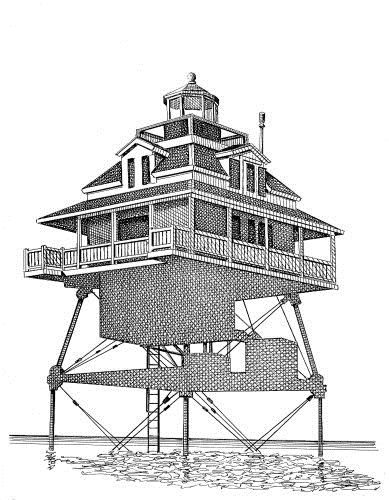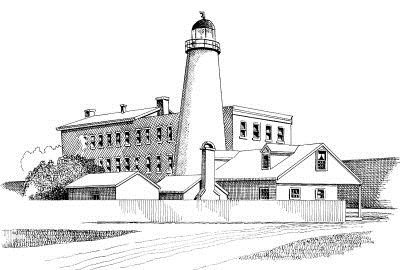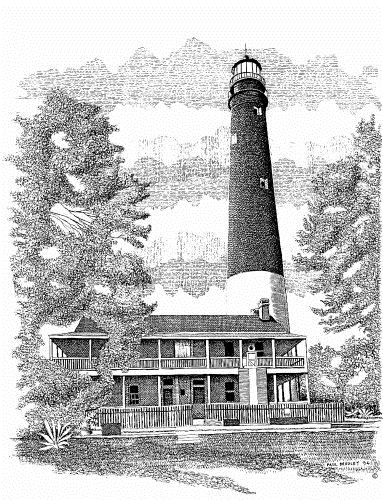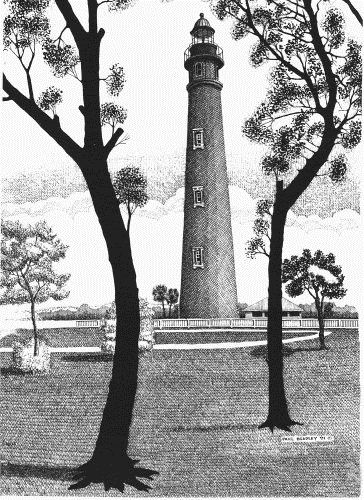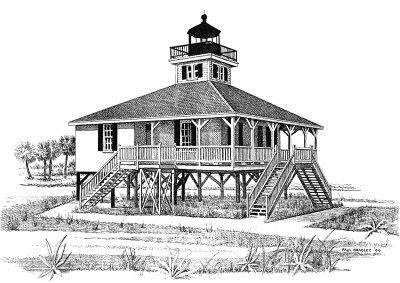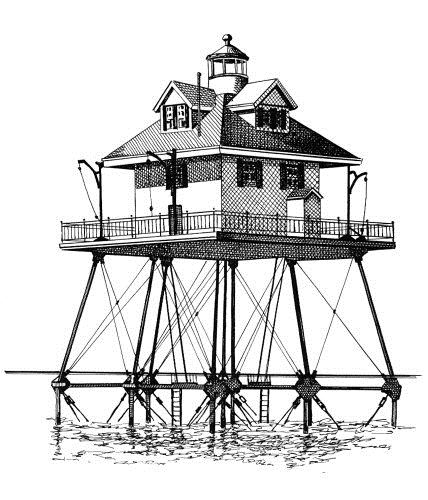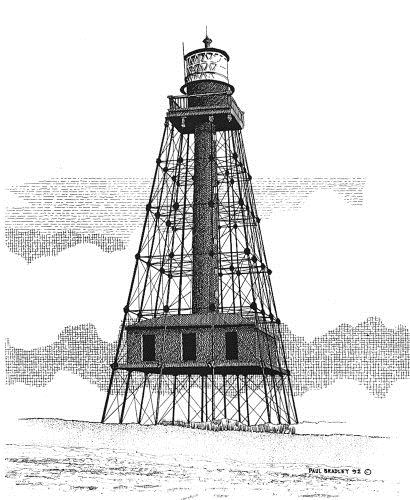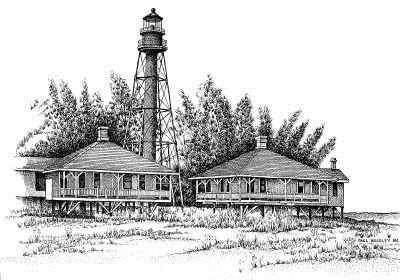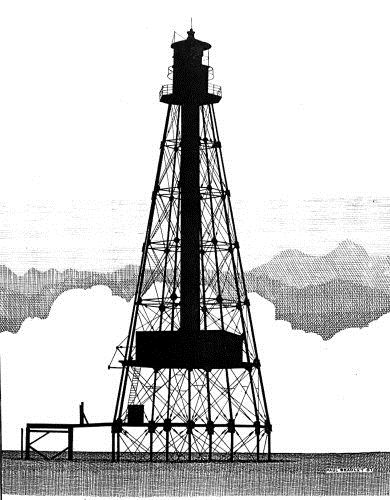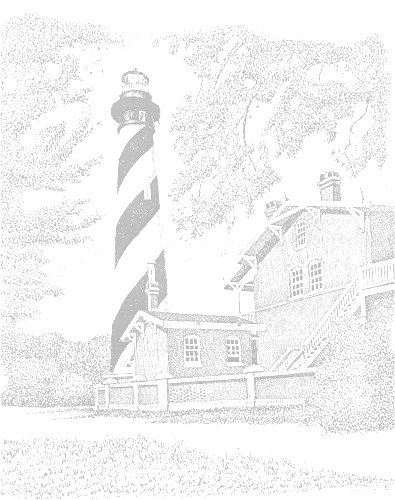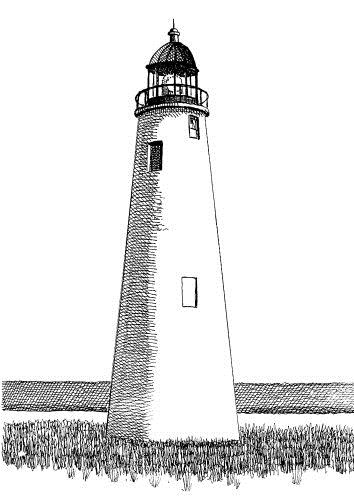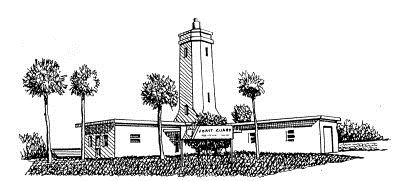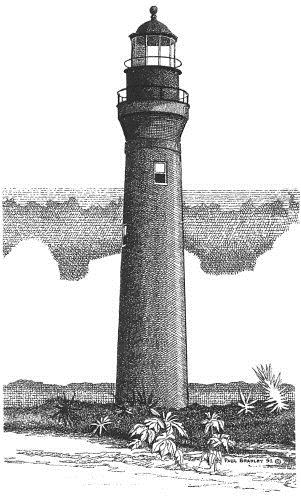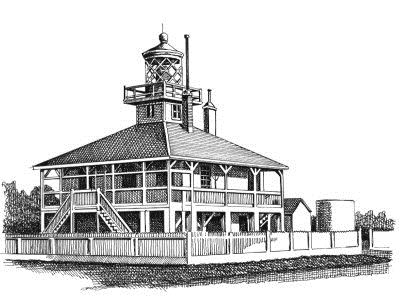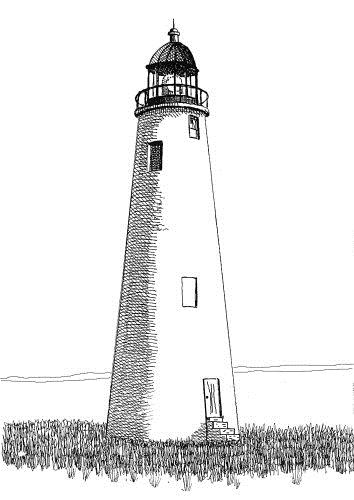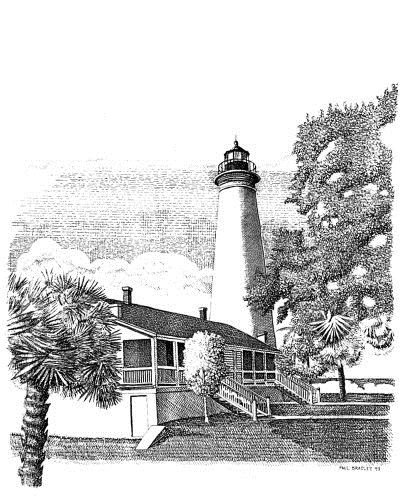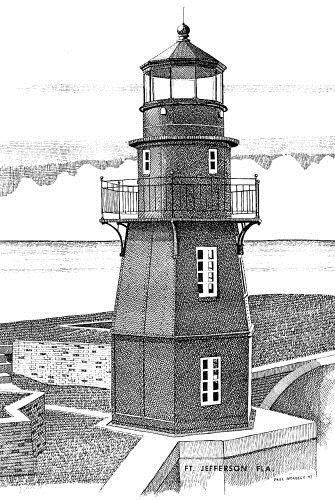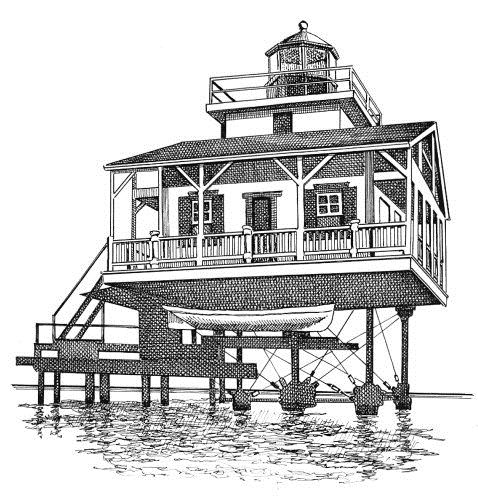 Lighthouse Reference Books
You're not the first person to have an interest in the lighthouses located on the shores of Florida. Many people have written books on these fabulous and historical treasures. If you would like to learn more about the lighthouse, check out our suggested list of great reading.
A Light In The Wilderness: The Story of Jupiter Inlet Lighthouse & the Southeast Florida Frontier
by James D. Snyder.
Pharos Books
America's Lighthouses, An Illustrated History by Francis Ross Holland, Jr.
Written by an historian of the National Park Service this book describes the founding and operation of over 200 of America's coastal and inland lighthouses. It contains over 100 historic engravings, drawings and photographs.
Dover Publications, Inc
American Lighthouses, A Definitive Guide by Bruce Roberts and Ray Jones
With beautiful color photos this book covers over 500 lighthouses on America's coasts and lakes. Details the history and architecture and provides full information on visiting or just viewing each of them.
The Globe Pequot Press
American Lighthouses, A Pictorial History by Jill Caravan
Details the origins of lighthouses and details their evolution from the earliest towers to modern marvels of architecture and automated technology.
Courage Books
Bansemer's Book of Florida Lighthouses by Roger Bansemer
Written and fully illustrated by internationally known artist, Roger Bansmer, this book depicts Florida's thirty lighthouses in over 200 paintings and sketches. Contains interesting stories on each lighthouse and its surroundings.
Pineapple Press, Inc.
Cedar Keys Light Station
The Cedar Keys Light Station on the island of Seahorse Key off Florida's Gulf Coast has stood a solitary vigil for more than 157 years. This sturdy sentential has survived devastating hurricanes, the assault by Union troops, as well as years of abandonment. Learn the history of one of America's lesser known treasures. Hardbound; 192 pages; illustrations; index.
Suwanee River Publishing
Drawn to the Light, the History of Cape Canaveral and its People
by Sonny Witt
The history of the Cape Canaveral area starting with the Ais Indians, the early homesteaders through the construction of the first brick lighthouse as well as the present iron lighthouse. Included are the stories of the lighthouse keepers and their families.
Central Plains Book
Florida Lighthouse Trail
by several authors, each an expert in his own right
Tom Taylor, who edited this book and wrote several of the lighthouse histories, was a founding member and past president of the Florida Lighthouse Association. The book contains numerous drawings by Paul Bradley.
Pineapple Press
Florida Lighthouses
by John Hairr
A visual tour of Florida's lighthouses through the use of vintage photographs.
Arcadia Publishing
Florida Lighthouses
by Kevin McCarthy
Generously illustrated with colored drawings by William Trotter, this book covers the construction, history and operations of all thirty of Florida's lighthouses and its one lightship. Several pages are devoted to each lighthouse, providing a map and detailed directions for reaching each one.
University of Florida Press
Keepers of the Light: A History of the St. Marks Lighthouse and the Gresham Family
by Myrna Robers Kanekkeberg.
Chronicles Myrna's family who were keepers of the St. Marks Lighthouse for three generations. Can be purchased at The St. Marks National Wildlife Refuge gift shop, Wakulla County Historical Society shop in Crawfordville, and various online outlets including: www.goodreads.com
The Lighthouse Almanac
by Elinor DeWire
A compendium of science, history and fascinating lore about the American Lighthouse compiled in almanac fashion by the month and date.
Sentinel Publications
Lighthouses of the Florida Keys
by Love Dean
The stories and histories of the twelve lighthouses of the Florida Keys. The six reef lights from Fowey Rock to Sand Key comprise the largest collection of wrought-iron skeletal lighthouses in the world. Love Dean was a boating enthusiast, both powered and sail, and operated her own boat for years.
Pineapple Press Inc
Lighthouse Spotter's Guide
by Michael J. Rhein
Comes with a clear plastic protective cover and is geared toward folks who travel to lots of lighthouses. It is a quick reference guide (complete with "spotter's notes) and includes images and brief information on many lights in the United States and Canada.
More Beautiful Lighthouses - Pictorial Field Guide
by John Spatuzzi
Over 250 color photographs of lighthouse around the USA.
So You Want to Move to Florida
by Stan Farnham
Stan Farnham, FLA past president, wrote this book geared towards those contemplating a move to Florida, but it serves the present Florida residents as well. It is filled with valuable information on dealing with Florida regulations, saving money on home purchases and interesting things to do in Florida. It has one entire chapter devoted to Florida's lighthouses. For more information: SoYouWantToMoveToFlorida.com.
AuthorHouse
Southeastern Lighthouses, Outer Banks to Cape Florida
by Bruce Roberts and Ray Jones
Beautifully illustrated with Bruce Roberts color photographs this book details the histories of the lighthouses of the Southeast coast.
Globe Pequot Press
Until the new Tierra Verde Lighthouse was built and operational November 2005, the Mayport Lighthouse at the Mayport Naval Station near Jacksonville, was the last one built in 1954. Before that the Gasparilla Rear Range Light (Boca Grande) was erected in 1927 after moving it from Delaware.
Of the 30 Florida Lighthouses, several are open to the public (Pensacola, St. Augustine, Ponce Inlet, Hillsboro Inlet, Jupiter, Cape Florida, Key West, Boca Grande). Weddings have been held at these. The Jupiter Lighthouse has 30 to 40 weddings a year.
If by oldest, the question is the first then the answer is one thing but another if it's the oldest present lighthouse. The first lighthouse was the Pharos in Alexandria Egypt built circa 270 B.C. and one of the Seven Wonders of the Ancient World. It was 100 feet taller than the Statue of Liberty. The first lighthouse in the United States was the Boston Harbor Lighthouse built in 1716 on Little Brewster Island. In Florida, St. Augustine was the first lighthouse, built in 1824 and lit April 5, 1824. The present one (1876) is the 10th tallest in the United States. Pensacola was the second Florida one (December 20, 1824) and the first on the Gulf side. The oldest present lighthouse in Florida is Amelia Island, 1839. Jupiter has the oldest Fresnel lens, installed in 1860.
Tom Taylor led the effort with an organizing meeting July 1996. The first president was Ann Caneer of Ponce Inlet Lighthouse. The first annual meeting was in October 1996.
Cape Hatteras Lighthouse (191 feet) in North Carolina is considered the tallest of traditional lighthouse in the United States, but some argue the Statue Of Liberty is the tallest because after it opened it was a lighthouse, although no longer so. Ponce de Leon Inlet Lighthouse is the tallest in Florida (175 feet) and one of the tallest in the United States.
Michigan 129, New York 68, Maine 64, Massachusetts 52, Wisconsin 36, California 34 and Florida 29. The totals change because of lighthouses demolished or declared surplus. Nineteen states have none.
The National Historic Lighthouse Preservation Act of 2000 enabled the government to transfer ownership (give away) 300 lighthouses. St. Augustine Lighthouse was among the first in 2002 to have ownership transferred to a private non-profit organization.
Forward lights are seaward of the main lighthouse or rear range lights, which are usually higher than forward lights. The Gasparilla rear range light is an example.
Reference Links
This publication has been saving lighthouse history since 1992. Follow this link to sign up for e-news, subscribe and purchase back issues. There are lots of links, databases and archives to keep you busy for a long time. You can also promote Lighthouse related events on their calendar.
State Lighthouse Organizations
If your association has a website that you would like to list here, let us know. We'll be glad to include it. Email your link information to: webmaster@FloridaLighthouses.org
Alaska Lighthouse Association
Chesapeake Chapter of USLHS
Delaware River & Bay Lighthouse Foundation
Great Lakes Lighthouse Keepers Association
Michigan Lighthouse Conservancy
New Jersey Lighthouse Society
Interesting Lighthouse Related Sites
These are a few of the sites that we have found. If you find one that is not listed here, let us know. If you find a site that the rest of the lighthouse world needs to know about please send it to us and we'll include it. Email to: webmaster@FloridaLighthouses.org
Beacon Preservation, Inc. - Non-profit organization dedicated to lighthouse preservation
Florida Lighthouse Trail - "Visit Florida's" page on Florida Lighthouses
Florida Lighthouses - Information on Florida lighthouses present and past as well as a list of women lighthouse keepers.
Florida Maritime Heritage Trail - State of Florida, Department of State
Historic Light Station Information and Photography - Florida U.S. Coast Guard
Jones Point Lighthouse - Virginia
Lighthouse Hub - Information on U.S. lighthouses
Lighthouses, Lightships and Aids to Navigation - Maintained by the Office of the Chief Historian of the U.S. Coast Guard
Lighthouses of Florida - Photos, history and coordinates for Florida's lighthouses
Maine Lighthouse Museum - Home of the Country's largest lens collection.
National Lighthouse Museum - Although the museum is not yet open, planning and site preparation are well underway!
The Amateur Radio Lighthouse Society - Coordinates for Florida's lighthouses
The Lighthouse People - Bob and Sandra Shanklin have photographed every lighthouse in the U.S.
U.S. Lighthouses - Informative site by Bryan Penberthy
World Lighthouse Society- More links to sites about lighthouses and of the world.
United States Lighthouse Society - Links to over 15,400 museums
Preservation Directory.com - Resource for historic preservation
Reef Relief - Coral Reef Conservation, Science Education
Visit Florida - Florida's official tourism site. The FLA is a member of Visit Florida.
News
We scan the globe for news, stories and interesting facts related to lighthouses. Consider this your one-stop outlet to the latest lighthouse news.